Checkout the book
On Amazon you can "Look Inside" the book. See the links in the top-menu.
By clicking here:  introduction , you download a PDF with the introduction. The PDF also contains Preface and Tables of Contents, Figures and Tables.
Alternatively, see the Table of Contents  in this site with selected figures.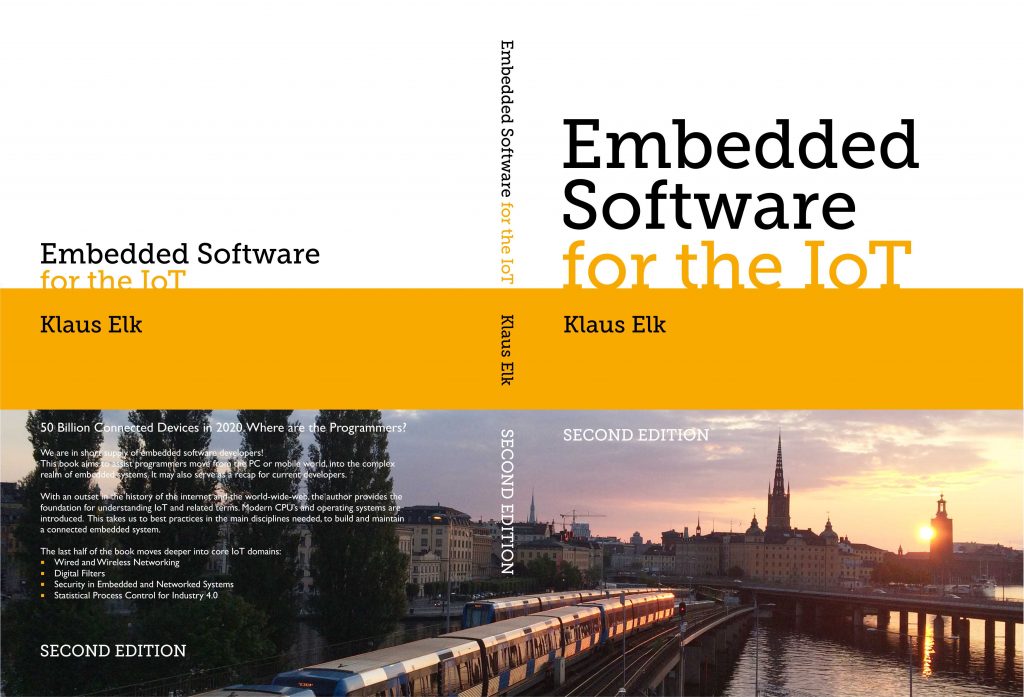 The Amazon.com price is 24.95$ for the 320 pages book.
Prices at other Amazon sites matches the above.
 Preface from the Second Edition
The Internet of Things is here, and soon 50 Billion devices will be "connected".
So we are told. This raises the question: "Who is going to program
all these devices?"
According to a VDCResearch estimate in 2011, there were 880k "embedded
engineers" worldwide, with an annual growth rate of 7%. With an
unchanged growth-rate, this amounts to 1.6 million embedded developers
in 2020. Each will, by average, be responsible for approximately 30k
devices, if all these numbers can be trusted. We will probably not see 50
Billion connected devices, but we will need more embedded developers.
Some are going to leave PC- and mobile-programming to work on all
these embedded devices. Others will be new to the scene, self-taught or
from universities. Common to all these developers is the overwhelming
amount of new domains that they need to get into – on top of their basic
programming skills. The aim of this book is to help in this process.
The author presents a lot of basic knowledge in the relevant domains in a
structured way. This creates a strong skeleton of knowledge onto which all
the scattered details from the web may be attached.
Throughout the book the author draws on 30+ years of good and bad
real-life experiences from the private industry as well as from university
teaching – in an informal and relevant way.
Stackoverflow
When you are stuck, one of the best places to look for answers  is stackoverflow. This great site conducted a survey among their many users in 2016:  https://insights.stackoverflow.com/survey/2016
The survey is absolutely worth studying. It gets into many details of who developers are, what we do and how we think. In the context of this site and book, the interesting number is 2.6%
2.6% is the fraction of developers (responding on stackoverflow) who worked with embedded applications in 2016. If you are one of the 97.4% other developers, and you are considering working with IoT, then this book is for you.
New with this Second Edition:
More content. 50% more pages. Most of the old chapters are heavily updated.
New Introduction to the Internet, Cloud, Industry 4.0 etc. (included in PDF)
New chapter on Internet Security
New chapter on Statistical Process Control (relates to "Industry 4.0")
Many new figures
Improved readability of the many Wireshark captures
Please see Table of Contents for more information.
Why this Book?
The motive for writing "Embedded Software for the IoT" is still to help programmers from e.g. the PC-world to get into the embedded domains.
Even though you know a lot about programming, embedded systems has some extra challenges. Since we are focusing on IoT, network knowledge is key. Many developers will need some basic knowledge on Digital Signal Processing. After all, many IoT-devices have sensors and actuators. And then there's the large area of CPU's and Real-Time Operating Systems.
The last year has shown us that we need to think differently on Security. If we are creating a life-critical device for e.g. hospitals, it is pretty clear that we need to think security. However, less "important" devices , like e.g. toys and home appliances may be used in "botnets". Thus we have an ethical responsibility. The economic argument: it can hurt our brand, even if it doesn't inhibit the application.
Finally, "Industry 4.0" is gearing up. Instead of starting from scratch, we can learn a lot from the existing Statistical Process Control. Much of this happens as post-processing on PC's today, but it will move closer to the assembly-line.